Subdermal
Wow, the year's just started and it's already kicking my ass! No time for sleep, that's for damn sure. I wrote last month about the excellent performances by the Surf Reality Players at the Knitting Factory that took place January 1. What a way to start the year! Palindromes, jaegermeister, vomiting and ecstatic trances… and I made it to work the next day. Hornbuckle is still chuckling over the fact that for his main stage Knitting Factory debut he played Total Eclipse of the Heart. Turn around, bright eyes! Is that a reference to the Planet of the Apes? Does anybody know, or care? The very next night M. David had to drag his sorry bones out to The Rising in Park Slope, where he performed over an hour of originals and covers for the friendly (and frisky) ladies and gents. Before the show we played a game of Scrabble and he beat me so bad I'm still not able to sit down. Thursday the Rabbi stayed home, but Friday I ha-cha-cha'ed at two stellar events: The Southlander premiere at the Anthology, and The Sprinkle Genies at Pete's Candy Store. Saturday was Paleface at Sidewalk. And Sunday brought us to Whirlmart. The whole month was like this! Out, out, damn Mel! My cats forgot who I was for a bit.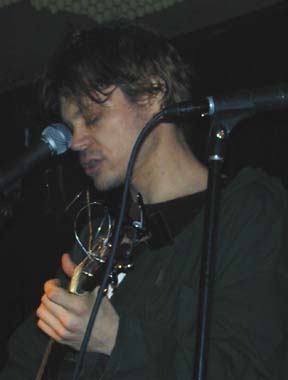 1.05.02 The Paleface rumor is this: Paleface had a record deal, and a roommate. His roommate was Beck. In a strange Twilight Zon-ian reversal, Paleface lost his record deal, and Beck got one. Beck then stole Paleface's material. While Beck enjoys international fame and superstardom, Paleface toils away at Sidewalk for tips and drink tickets. Paleface does little to dispel the rumor (maybe it's true, I dunno). In fact he sings a snarky song that transparently references Beck, while his keyboardist plays sampled breakbeats and electronic toy drums. Vocally and lyrically, Paleface sounds nothing like Beck, his energetic sincere gruffness in sharp contract Beck's languid sarcasm. Paleface's melodies are dense and beautifully simple, sounding as much like Love and Rockets as anything from the anti-folk scene.
01.06.02 WhirlMart is an anti-consumer ritual that will hopefully be occurring monthly in Manhattan superstores. Participants silently wheel shopping carts through stores while wearing nifty shirts and baffling shoppers. At December's WhirlMart, which took place at Kmart Astor Place, the police were summoned. But the Bed Bath and Beyond management was much more amenable to the protesters. In fact, the only people who were reprimanded were the videographers and photographers! So I took some photos on the sly. I originally planned on staging a meta-protest, ie, shopping, but I got so caught up in the quiet whirling. Unfortunately for my karma, when we went downstairs I saw a Hello Kitty blanket I had to have. The WhirlMart shoppers pushed empty carts for a whole hour and silently departed the store. It was sweet and cute, just like my Hello Kitty blanket! Comments from the crowd ranged from "Cool!" to "Peeps got nothing better ta do on a Sunday?" check out www.Breathingplanet.net for photos, video, audio, and upcoming events.
01.08.02 Thems Good Eatin featuring guitarist Brer Brian performed at Sidewalk on January 8, doing a wacky acoustic set of their trash-psyche-surf-rock-rap songs. Besides doing spectacularly funny original material, they did a hip hop medly. Brer was featured in the New York Times recently, but he's still really cool. You can check them out again at Sidewalk on February 17.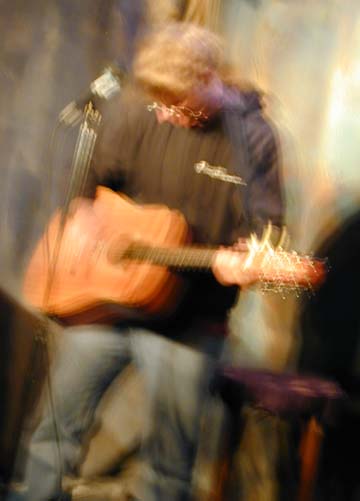 01.11.02: Before we traipsed to Brooklyn to go to AirPorT at the Lunatarium, we stopped at Sidewalk to see Hialeah Jorge and the Cuban Cowboys. I forgot to write about them last time I went to see them. But when we walked in, who was playing? THE SPRINKLE GENIES! Yay! Sadly, Erika was not in attendance that night, but the band bravely played without her. Judy from The Transcenders joined them on stage to provide backup vocals. They also had some new t-shirts for sale! SGs play a weird mix of psychedelia, country, indie rock and slacker pop. They're fun, funny and cute. You can check out video of SG on Rools Like Ozzy on the RLO website (www.roolslikeozzy.com). Chanteuse Debby Schwartz was there to join in the general grooviness, and she smelled like the yoga center gift shop! Just like Andy sings in Blob (yoga breathing meditation tai chi and 40s). You must visit sprinklegenies.com, if only for the bizarre experience that it is. I have no idea what was going on while I was there. It was like an acid flashback! Hopefully while there you can figure out how to download some of their MP3s, and maybe even order their new CD, Fuzzy. And if you go to see them you can buy a t-shirt. Sprinkle Genies will be playing Feb. 14 with Mike Ill at Willie McBride's in Hoboken. Bring your sweetie to see the Genies! They'll also be at Tobacco Road (355 W. 41st St) the last two Thursdays, Feb 21 and Feb 28 from 6-8. Stop by after work and hoist a few.
Hialeah Jorge had the nerve to play without Hornbuckle on piano, and I missed him. Well, I missed the piano. I didn't miss him because he was sitting right next to me drinking a guinness. The Cuban Cowboys all pretend to be from Cuba (not just Cuban, but from Cuba) and speak spanglish. They sing in spanglish too, which may seem strange for a surf-rockabilly type band. But it works. The LES latinas in attendance were hootin and hollerin for Jorge, and would pretend to go into a frenzy when he'd shyly open his shirt and let one of his nipples peak out. Ay caramba, as they say.
The AirPorT event did not go off as planned. We waited on the stairs for 15 minutes with nothing happening before we decided we'd rather be fucking. But I heard from Quad Princess, (quadprincess.com) who worked as an attendant at the Red Roof Inn (a/k/a the club chill tent) that things was quite sparkly and fun, except for the fact that there was a small fire around 2 AM and the place was shut down by the NYPD around 4am. Turns out he Lunatarium people did not have the proper permits to be running and renting this space. I ran into one of the event's key people on my way out, and she was quite sad about all that was going on: the elevator was out, which meant everyone had to haul ass up nine flights of stairs, and the door people were getting woozy from lack of oxygen. So as of now the Lunatarium is ferme, but will probably open again in the near future.
01.13.02: I started this bitterly cold Sunday rolling around on the Brooklyn Bridge promenade on roller blades and ended up on the ground making out with Wally LaSalle, the associate director of the New York Institute of Humor and Slave Labor Boxer Shorts Sweatshop. We were shooting a short for the upcoming Curtis Scagnetti show. Ladies, did you know Mr. CurtyScags was a swingle? I know he's skinny, but I think there's enough of him to go round--he's a high energy sort of freak. A week later I caught his sets at Faceboyz OpenMike and at Rev Jen's Anti-Slam, and he was kickin'! He did a tribute to his dead cat Elvis that was so fucking funny I had an asthma attack. Scagnetti is tres dangerous!
Later that evening I dragged my old sore ass to see Mission of Burma, who made me both proud and ashamed to be an old tabby. I last saw MofB in 1983 when I was a tiny tot of 15, sneaking into clubs with my big hair, too much eyeliner, and my fushia jordaches. We used to stand in the front and bop around to Max Ernst. Oy gevalt, I loved those art boys. I was devastated when Roger Miller announced that the band was busting up. What other punk rockers understood the longing in my teenage soul for the beauty and terror of art, philosophy, and sonic assaults? No one. They left me alone. I barely listened to music for several years after that. Look through my records! You'll see there's very little between 1984 and 1988--some Smiths and Jesus and Mary Chain and the required Husker Du. I was really really sad without MofB. So, the pride part came when I saw that Roger, drummer Peter Prescott, and bassist Clint Conley were as punk rock and feisty as ever. The shame part was that I almost missed this show! Because I'm a moron. Thank goddess Hornbuckle said he wanted to go. Dear MDH, he was a toddler when MofB busted up. Anyways, they rocked and did everything I ever wanted them to do and I felt all gooey inside like I was their mom. It was so sweet I was in danger of going into insulin shock. In attendance were little kids, old people like me, indie rockers, and rock stars. MofB ended their second set with Max Ernst and Academy Fight Song, and I could have melted into a puddle after that. Ira Kaplan from Yo La Tengo and Moby and Richard from Versus joined Mission of Burma for the encore, All World Cowboy Romance. There was no band like Mission of Burma 20 years ago, and there still isn't. They're so awesome, and I'd definitely still fuck Roger Miller. Look out for a documentary coming out later this year (on MofB, sillys! Not of me fucking Miller!)
01.18.02: Lit VII: KE Seims and Janice "Girlbomb" Erlbaum were the lovely and talented hosts of the action-and-intrigue-filled Lit VII: written word performances, which took place at Surf. What that means is that writers read from their works. That's cool, but this is even cooler--you get to hear work by people you don't necessarily normally associate with writing, like comedians Girlbaum, and Shauna Lane. Each performer gets about eight minutes, so even if you were insane and you didn't like the story you'd not have to hear too much more of it. But you'd have to be crazy, all the material presented was top shelf. Janice read a grusome story about taking a friend to get an abortion. All us chicks have their abortion stories, don't we? Each one is different and horrible and funny, only when Janice gets her dainty and dangerous Girlbomb hands on a story, she molds it into something more horrible and funny than you can imagine. KE Seims read a great story about the history of the big money wheel on The Price is Right. It was surreal and charming. Or was it true? Tia Schellstede's essay about writing about people you know really struck a chord with me, since that's all I do! And she said it much better than I could have. Wendy Speero did a sort of 'found object' piece with a backstory--reading from her friend's landlord's letters, in which said landlord feels the need to divulge to the reader the details of her yeast infection! That's crizazy. I try to keep those things to myself. Speaking of which, my man M. David Hornbuckle read two excellent stories: one about a charming, self-absorbed and self-effacing artiste, and a really killer story about obsession, called The Most Amazing Food in the World. Can I gloat here for a second? I have the best boyfriend ever. He's exceptionally cute, phenomenally talented, and so smart that we're equally matched in Jeopardy! and Trivial Pursuit. Then there's the stuff I won't disclose, being a discreet sort o' gal (right!).
ArtStars confidential: Faceboyz and Rev Jen's have featured some delectable acts lately, and all for $3, byob!!! I spoke of the Scagman above. Also shimmery is the delicious Shauna Lane, whose silliness only slightly covers up her deep stillness. She reads these poems that at first sound ridiculous, and by the end (which may only be one line later) you're like, "oh!" You can catch Shauna in hosting her variety show, Shauna's World on Friday, February 22 at 10pm at Surf (172 Allen St.). Shauna's World is as wacky as you'd expect, and chock full of talent and pretty people. Touching You has been doing some fantabulous new songs at both open mikes. His material is musically complex while remaining accessible--think Elliot Sharp if he played with the Monkees. And lyrically of course, he's brutal- I Hate Humans, Amateur of Sorrow, Lou Reed's Cock, and a multitude of smart-ass political songs make up only a very tiny part of his catalog. Rev Jen has been reading her travel guide to the Lower East Side Sunday's at Face's, and Faceboy has been doing poetry (often about his ass) at Jen's. Girlbomb has been kicking ass as always. It's funny and true! This will be the first month of a column without a photo of Hornbuckle, but he'll be playing sad country songs at The Rising in Park Slope on Wednesday February 6, and funny pop songs at Sidewalk Tuesday Feb 19. You can read lots of art star gossip and sexy fiction an poltical stuff at girlbomb.com.