subdermal
tuesday 2.27.01: RECESS featuring Geoff Gersh, Paul Geluso, Charles Cohen, and Dafna Naphtali at the Knitting Factory
I wait at the Tap Room bar at the Knitting Factory for Recess. This is like school! Waiting for recess... Tonight Recess features guitarist Geoff Gersh, Charles Cohen with his analog Buchla Music Easel, Paul Geluso on bass/savvy electronics, and singer Dafna Naphtali. While discussing upcoming shows, the very young (28) bartender informs us that he's too old to go out anymore. What can you expect from someone who saw the Butthole Surfers when he was 15? At least it's happy hour and I can easily drink 4 beers before 8pm (it's 7:40 now, I think...)
Charles Cohen I know. I've seen him and his weird wired thing before, playing in October at Bunker: Extreme with Tom Ritchford. In October, he performed solo work, utlizing samples of old
recordings of Gertrude Stein interspersed with music from the Buchla. It was lovely and delicate and strange. Dafna Naphtali I only know by the reputation that precedes her. "Oh, you'll like her, you'll like her stuff" people tell me. I think "sure. sure I will," but, it turns out they are right and I am wrong. I do like her stuff. Her processed voice reminds me of familiar things, but not of things that other people do.
The night begins with bird-like twitters that dance sparkler-like on my beer-soaked brain. As Geoff Gersh and Paul Geluso join in, the sound swells and envelopes and I feel like I'm falling down drunk into a plush velvet couch. Ah, bliss! Dafna's processed voice compliments Cohen's Buchla and contrasts with Geluso's resonant bowed bass and Gersh's luscious effects-heavy guitar, so this lovely quartet melts down and makes a big beautiful sound. Together, these four are like a Mars Bar: nougat, caramel, almonds in a rich chocolate coating. Yum!
After the initial piece, Charles did a solo piece to which everyone on stage added.
thursday 3.01.01: Dave Eggers and Jonathan Lethem celebrate the release of McSweeney's #6 at New York Housing Works Used Book Cafe.
My friend Steve and I plan that I should throw myself at Eggers, as an article in the New York Times likened him unto a pop star and intimated that he had groupies, practically. Hell, I could certainly do worse than to offer myself up to this velvety brainiac, but I get the impression that I may not be his type. I read the book, A Heartbreaking Work of Staggering Genius, (and it is! Read it and weep...) and it's not ironic (don'tcha think), but I am.
The reading is at 7 pm, but at 6 it's already packed. There are no more seats, so people sit on the stairs and stand in the aisles. By the time They Might Be Giants (who provide the soundtrack for McSweeney's #6) galoomp up to the podium, the entire bookstore is filled with almost exclusively extraordinarily beautiful people in their late 20s and early 30s. Also, almost
exclusively white. Definitely all at least middle class. There are a handful of stunning black guys, 2 lovely black girls (including Zadie Smith, author of White Teeth, who read an amazing short story), some asian women. I'm the only hispanic that I notice, but, of course, if there was another hispanic there they might not think that I was one either. It's strange, in Manhattan I'm perceived as white (well, jewish or italian) by white people, hispanic by other hispanics, hispanic, white, or mulatto by blacks, depending on where I am and what I'm wearing. Outside of cities, however, I'm definitely considered some sort of shifty minority that you don't want around. I've been refused service in restaurants, followed around stores, detained at two borders! I can laugh about this, as I'm fairly certain that I won't get shot by cops. Anyway, this sweet young black guy with a soft broad face and baby dreads was smiling at me from across the room, and I wasn't quite sure if he was just smiling at me or smiling at me because I was standing next to a hunky Omar Warshow clone (you know him, the technology reporter on MSNBC) with long neat dreads shot with white and a very expensive suit (and a palm pilot too, one of many I saw that night). Hubba hubba, I am among the beautiful people. Can I compete?
Well certainly not with Zadie Smith, who read a story from the current McSweeney's, Bangs, written to go along with an TMBG song on the 'soundtrack,' about which she complained, as in her language (English) they call 'em "fringe." In her lovely husky voice Zadie read an amazing story about her and this girl. And it's so luscious and so sad that I want to offer myself up to her. Screw Eggers, and his weird story about wanting to be a whale (but probably turning out to be just a guy with a wetsuit and a uniflipper), and screw Lethem too, with his equally weird story that sounds like The Planet of the Apes on acid (from The Shape We're In, on McSweeney's Books). And screw Smith too. Let's have a little writers orgy, all meta-this and pomo that. Really, I just want to get with all of them.
But, I missed Liquid Tapedeck at Oasis. They'll be playing there again April 12.
friday, 03.02.01: Blastoff @ Fun. Tonight was to be the premier of Star Wrek, Bigtwin's Star Trek spoof, but he didn't finish editing it! He showed what he had, on FUN's myriad big video screens. Star Wrek features Zero Boy as the Captain, and he plays it like he's Capt Bill Clinton instead of Capt James T Kirk. Oddly, it works. Bigtwin is the guy behind The Illage Vidiot, among other ventures. You can see some of his material at http://www2.eccosys.co.jp/~bigtwin/ When Star Wrek is finished, it's going to be a spoof of the Landru episode (Return of the Archons)!
wednesday, 03.07.01: dorkbotnyc. dorkbotnyc is a monthly meeting of artists, designers, engineers, students and other interested who are involved in the creation of electronic art, run by the renowned Douglas Repetto (and I can say that because I've been hearing about him for what seems like a long time now). Four presenters at this one: Tom Ritchford, Noah Vawter, Dean Snell and Joshua Goldberg. Noah Vawter made a neat toy that he calls the Death Synth, and with this and some free software he can made music from the palm pilot! It's awesome! If you go to the dorkbotnyc site (at http://music.columbia.edu/cmc/dorkbotnyc/), you can link to Noah's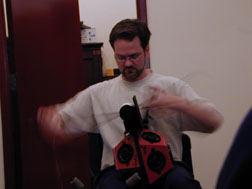 site for complete instructions. It does involve programming and soddering, so I probably won't be making one. Tom showed off some of his toys (MIDI stuff, loopers, and the Yamaha WX7 electronic wind instrument which looks like a clarinet but can sound like a geetar.) Dean demonstrated Amoeba, program he wrote that combines music and video generated in random patterns within a 16 cell grid. It sounds complicated, but looks and sounds very nice. Joshua's presentation kept crashing, which is a shame, as he was going to make popcorn talk by interpreting the pops from an air popper into Morse code. In May, we're all going on a field trip to a warehouse to see a flame-throwing toaster. Dorkbotnyc is tons o' fun, a definite must-attend if you're interested in electronic art. And women, Douglas wants you to present something. Many women attend, but none have presented yet.
Friday, 03.16.01: the 4 train party. I've always wanted to go to a train party, and, despite the fact that many of the party people appeared to be Phish fans, I had a good time. We all met on the uptown Bowling Green platform at 11:45 and boarded the first train that came. There were enough people to fill up two cars! Music was provided by The Hungry March Band, well, part of them anyway: two sax players, a rhythm person, and Tara, the drummer. People would occasionally begin chanting "THERE AIN'T NO PARTY LIKE THE 4 TRAIN PARTY!" Couples were making out, there was a hammock, beer, pot... it was crazy train! I noticed my friend Tom speaking with a rather attractive man, thinking why does Tom get all the cute guys? I mention this only
because, since most of the party people looked like Phish fans, there weren't so many cute guys. When we departed the train somewhere in the Bronx, Tom tells me to whom he was speaking. It was Chris Brodeur! I'm like omygod, because I'm afraid of this guy. You know him, he's an activist, he gets in trouble with Ghouliani alot, he's a crazy letter writer... Well, he turns out to be like totally nice. But don't they always say that? Oh, he seemed so nice... you know, after the headless torso is found in the woods. No, I don't think Mr. Brodeur will ever kill anyone--he's too high-profile! It's the quiet ones you have to be careful of, like me.
In the Bronx, we wandered for about 6 miles (ok, 6 blocks) to a bar that was populated by Jerry Springer rejects! This was the sort of place where you saw mothers and daughters drinking guiness together, and later fighting over some suede-head in a House of Pain t-shirt. The sax players from HMB played along with the jukebox, and they were fabulous. I have no idea what song they were playing along with, but they sounded great. On the way back, Chris got taped to a pole and the cops tried to break everything up at 59th St, but I was out the door at that point. Just think! If you'd been on the Extreme NY mailing list you could have been on the crazy train too! (Hungry March Band photo by Tom Ritchford)
monday, 3.19.01: WINK by Takashi Murakami. I went over to Grand Central Station to see WINK by Takashi Murakami (http://www.parco-city.co.jp/dob/). I was sadly not impressed. I can't blame the artist for this; the figures are wonderful--giant inflatables with huge eyes. The more figurative one is very Hello Kitty. But the placement, in Vanderbilt Hall (the main
entrance on e42nd st), is attrocious. Three are grouped together, and one sits all by itself to the west. It looks lonely! Plus, there was some definite inflation problems. Opal, the 'girl', was quite deflated. And this is only days after opening! There was a cherry picker there fixing things. It's too bad. The inflatables are up through April 11.
Something that has turned out not to be a disappointment is the Lone Gumen on Fox, Friday nights at 9pm. I'm lucky enough to have TiVo, so I don't watch this is real time (I usually leave the apartment right after Sabrina...). If you watched the first episode and thought it sucked, give it another chance. It gets better and better. Although the writers have been playing fast-and-loose with Frohike's age (one week Frohike, played by Tom Braidwood, felt he looked too old to pass for 56, and next week there was a flashback to 1967, when he was inexpicably 16, making him not yet 50), the writers have finally been able to wed the stupid, the funny, and the mysterious. And Langley! My god, with his wardrobe of Ramones and Motorhead t-shirts, Converse All-Star high tops (old skool Chuck Taylors!), and bad junk food diet, he gets my vote for dream-geek of the year. Dean Haglund has some grrl-fan websites already! There's even a Lone Gunmen webring! you can view the list here http://nav.webring.yahoo.com/hub?ring=lonegunmen&list.
Don't forget to watch Extreme NY TV every Monday at 11:30 pm on ch 57, MNN. Music, video, weird flash stuff and bad edits.

Dorkbotnyc, first Wednesday of each month (next one 4/4) http://music.columbia.edu/cmc/dorkbotnyc/
FUN: 130 Madison Street, Manhattan
Housing Works Used Bookstore CafZÿ, 162 Crosby St
McSweeney's Internet Tendency http://www.mcsweeneys.net
Oasis; CHASHAMA@135 located at 135 West 42nd St, http://www.chashama.org/currentproductions.html