subdermal
March 23-24, Reguritation Show, Jersey City. I don't think I've been in Jersey City (except to the Mall) since the early 90s. Sad to say, the dark greasy cloud of despair still hangs over. It was too long a walk to the Old Gold cigarette factory where the Regurgitation show was being held, a two day festival of art and music with bands, djs, robots, and Jell-o Shots. But we trudged on and wandered up dark staircases to find... bands, djs, robots, and Jell-o shots! One floor was mostly djs and performers, another was taken over by artists of many stripes. Eric Sophie the LegoMaster (see his stuff at http://brickshelf.com/cgi-bin/gallery.cgi?f=2817) was there with his giant, partially finished, Lego robot, who shall remain nameless, as he is. Nameless, that is. Eric says he won't be naming him. His head and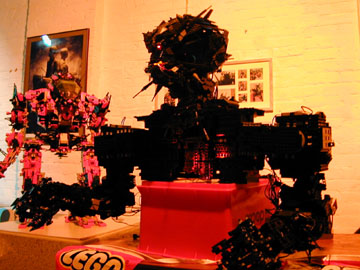 shoulders are controlled by five Lego Mindstorm kits, and one of his eyes is equipped with a cam that interfaces with a PC, so while the Legobot looks at you menacingly, you can see yourself on the computer screen looking back at him, everso timidly. D. Carner was videotaping for his trampoline/memory project, called jump, and I got on the mini trampoline and jumped around! While I yelled at Tom to hurry up and take my picture. Since the event was a party, there was no liquor for sale, so we did the suburban thing and trekked to the gigantic ShopRite. You know, they don't sell beer in supermarkets in Jersey, so all the supermarkets have liquor stores inside. This worked out well for us, as we purchased not only beer AND snacks, but Kalhua Mudslides. Up at the counter were enticing little bottles of flavored rum, seductively packaged in a four-pak. So we bought that too. When we got back to Regurgitation and set up on the faux lawn, we discovered that everyone bought those lovely little bottles! While we drank on the astroturf, the dj looped a guitar riff (from "Everybody Wants to Rule The World,") and Tom and I argued over whether it was Tears for Fears or Steve Reich! I am the mistress of bad 80s music, so you know I was right. I was vindicated when a guy came over and started laughing when he heard the riff. "That's fuckin Tear for Fears!"
March 25, David Lee Myers, Tim Perkins, Thom DiMuzio & Elliott Sharp @ Tonic. I don't know what they were calling this, but it was basically weird device night. The four jammed together on their strange things (E#'s was the most non-weird: it was a powerbook), and then they spilt up into solos and duets. It all rocked, but fuckin Thom DiMuzio! Geezus. There's this process called EMDR (eye movement desensitization and reprocessing), a way of achieving 'lost' memories through right and left brain synchronization. It was initially done visually, with waving hands, and then rhythimic devices., but later it was discovered that certain tones played monaurally through stereo headphones (ie, the left and right play different things) and I swear DiMuzio was doing this! While he twiddled with his synths (he looked like he was working the A train switching station) I was remembering dreams I had years ago. It was so strange and wonderful! The sounds were like the mothership hovering to take me home. E#, with the Electronic Music Foundation, has also released "State of the Union 2.001," a 3 disc compilation featuring some of the biggest innovators of electronic music, all in one minute clips! Contributors include Pete Missing, Z'ev, Tape Beatles, Kaspar Toeplitz, Ligeti/Ritchford, Christian Marclay...you can't go wrong. Log onto http://cdemusic.org/emfmedia.
March 28, Mr. Quintron is Drum Buddy Baddass and Oneida, Knitting Factory mainspace. I know Mr. Quintron as the demonic happy organ guy. But apparently he's an inventor too, and he's invented this new analog drum machine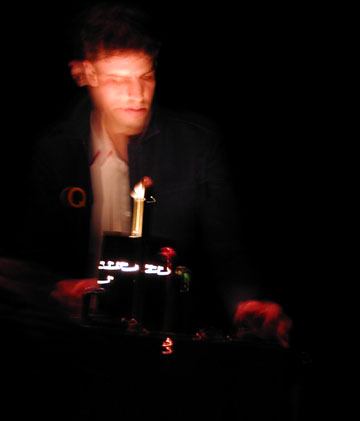 called the Drum Buddy. Mr, Quintron himself came out and introduced the hour-long Drum Buddy Infomercial, a badly video-taped debacle complete with star-wipe edits and weird people in the audience. At first I was confused as to why we just paid $10 to see an infomercial, but, fuck it, some day I'll be able to say I saw it, like I tell people I saw Sid Vicious stumbling around CBGBs a few weeks before he died. The infomercial itself was more Devo's "Now It Can Be Told" than Thigh-Master, and the infomercial audience members probably had a full set of teeth among them. But he is selling a product! It's a holey tin can on a turntable, which, due to the miracle of light synthesizers, makes beats. It's actually pretty cool! And tres expensive at $999.99, but that includes a coffee mug. In true Mr. Quintron style, the machine is turned on and off with a key. After the infomercial, Mr. Quintron performed a short and sweet set as Mr. Quintron is Drum Buddy Baddass with MC Trach (as in, inexpicably, trachyotomy) on the mic. This was a sort of Beastie Boys/Radiskull and Devildoll-esque goofy white rap thing. MC Trach wore a very ugly polyester suit and bad sunglasses. In traditional gansta style, all the songs were about them, their record label, and the Drum Buddy. It was getting late, and I was dreading the long train ride home, but I stayed for Oneida anyway, having no idea who they were. I was getting scared as I saw about 17 things on the stage: too many guitars, too many keyboards, fur-covered amps. Four guys hit the stage, and they all look like they're in different bands: one keyboardist, Fat Bobby I think his name is? is clearly from the J. Giles Band, the drummer looks like the stereotypical tv beatnik, the guitarist is either from Pavement or Hootie and the Blowfish, and the keyboardist in the front, well, he's a cross between Neil Young and, uh, Neil Young? Should we throw Joni Mitchell into the mix? He has long flat hair. So, immediately they all start BANGING away, screaming what sounds like DIE! over and over and over for like seven minutes. They were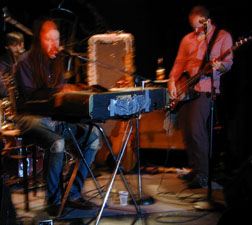 great! Imagine a thrash metal version of ? and the Mysterians. Later, Neil Younger played guitar, the other guitarist did some funny cock-rock moves, the other keyboardist asked for and received a beer, the drummer asked for, and didn't receive, more sound from the stage monitors. Band members moved to the audience and cheered. They thanked everyone who wasn't related to them. I'm glad I stayed. Oneida photo by Tom Ritchford
April 12, The Liquid Tapedeck (Fast Forward Flood)@ Oasis. One cannot underestimate the effect The Liquid Tapedeck has on me. I always have a good time, I laugh at the multitude of pop culture references, I actually enjoy the music. Math Jokes and Peter Etcetera are phenomenally entertaining. However, Peter Etc. did not make it to this night's show at Oasis, as Ashley, an intern at Empire of Goodness records informed us. He was, uh, visiting his dying grandmother in Alaska. And so, tonight, Peter Etc was "replaced" by keyboardist Jeep Sweden. Only thing is Peter usually plays guitar. How could he be replaced with a keyboard player who'd never even practiced with singer Math Jokes? Ashley informed us that questionnaires would be distributed at the end of the show so we could let the Tapedeck know how we felt about Jeep and other aspects of the performance. Well, when Jeep came out, I knew it would all be OK. He looked like Rick Wakeman without the wall of beer bottles on the keyboard, and his eclectic keyboard riffs fit perfectly with The Tapedeck's unusual amalgam of pop and improv. By the time Math appeared on stage I was so caught up in Jeep's playing I barely noticed. But really, you can't help but notice Math after a few moments, especially when you're in the front row and he's jumping and spinning and cavorting. He removed his shirt almost immediately, revealing waterwings on his arms. Would there really be a fast forward flood this time? One of the wonderful things about The Tapedeck is that the show is never the same. In fact, the songs are rarely the same. I think the only song I've seen them do every time was "Fist Mike" which I never get sick of anyway. It's a slow ballad with a lovely melody, and Math goes into the audience and actually sings into people's fists. For the first time ever, I saw him sing into two fists at once! The baffled yet friendly
audience at Oasis that night was offering up their fists left and right to the enigmatic and charismatic Math. They did some songs I'd never heard, like "LSD," wherein Math does a very funny Yoko yodel, and makes fun of the Beatles and various Beatles wives. But, although the show was fabulous (every show I've seen of theirs is great), and Jeep was a transcendent keyboardist, I missed Peter. I hope his grandma is ok! I got to see some of the returned quality control questionnaires, and the responses ranged from "Lay off Linda" (referring to the "LSD" song) to "more wombats!" As always, I requested that they bring back my favorite song to the show, "Let's Light Joan Rivers on Fire."
April 15. Poor Joey. I knew he was in the hospital, and I didn't think it sounded too good. Still, what a shock. Joey changed the world for almost all of us. He will be missed.
April 18, Chewtoys at Orchard Grill. After some fries at Ranch One (and the fries are no better than anyone else's, by the way), we headed downtown to see Shel, Sheldon, and Spinoza spin at Chewtoys. While we listened to Shel spin some delicate and funky trance mixes, Spinoza told me that he DJs in the bathrooms at Twilo. I laughed, as the bathroom is always the place where I realize how fucked up I am! Suddenly you're confronted with doors and mirrors, and zippers and tights and you're like "my god! I did too much." He said it's weird, because you have your audience for only a few minutes, so it's a completely different experience from spinning in a real room at a club. But everyone's got to go to the bathroom. Orchard Grill is weird, but comfortable. They actually serve dinner up through 10, so you still see some beefeaters chowing down while Shel weaves that trancy web. The music is loud, but not so loud that you can't have a conversation, the sound system is good, there are pretzels and beer on tap, and three djs that are good, and different enough that you just can't go wrong. When Spinoza came on, my only wish was that there was a dance floor, as he plays some mean beats.
April 19, Speak of the Devil video premiere, Void and Lesion, Arlene Grocery. Ah, a night of demonology. Jeremy X. Halpern's Speak of The Devil: A Satanic Cabaret (http://www.weirdos.com/devil/) had its video premiere at Void. You may remember this show ran last spring at Show World, a place many of us visited, and some of us worked, when they had strippers. The show is sort of like Threepenny Opera mixed with Rocky Horror. For some reason, God is a woman. Can't figure that one. Shouldn't God be a hairy wombat? Tom Ritchford, who played Semyaza, the first angel to rebel against God, said, "God is a woman because it's just like that old joke, and plus it let us put that torch song at the beginning of act 2." Which old joke? The one about the chicken kurma? You can order the video and the CD at the website www.weirdos.com, and you can also download trailers there.
Lesion, of course, is New York City's (maybe America's, maybe the world's??) premiere satanic rock combo (I know, they hail from Essen, Germany, but they live here now, dammit!). The crowd was sublimely soused and sweaty when Dr Gustav Hurtz, accompanied by Piss Promise on guitar, Mr. Pod on bass, and the mute drummer Venison, paraded onto the stage at Arlene Grocery. The all too short but quite sweet set included hits from their most
recent CD, You and What Army, along with classics from Slaboratory such as "You've Got A Friend in Hell," and "Clone Boner," which they did as one of three encores. Hell, they are loved. My two favorite bands are The Liquid Tapedeck and Lesion--if you don't see them, I will hunt you down like a duck.
April 22, Urinetown The Musical. On the recommendation of Peter Etc., I attended a Sunday afternoon performance of Urinetown. I'm not a fan of live theater, and I have a strong dislike for musicals in general. But, this was awesome. The show takes place in a city where citizens pay to use the bathroom. Like all good post-modern musical comedies, it constantly refers to the fact that we're watching a musical comedy. Jeff McCarthy and Spencer Kayden are perfection as Officer Lockstock and Little Sally, the characters who offer up most of the expository dialog. Kayden performs with the Neo-Futurists, and is a playwright herself, so I expected her to be good. McCarthy, though, comes from a traditional musical theater background, so I commend him for rising above that. Everyone is good in this, there are only a few clinker moments (some overly sappy songs), and it'll probably play for a while, so try to see it early. This way you can brag to your friends. In case you think this is just some bogus musical, it was a big hit at last year's Fringe Festival, so there ya go. Urinetown The Musical is at American Theater of Actors 314 West 54th St.
April 25, Mink Lungs at The Stinger. After taping a new episode of Rools Like Ozzy, the fabulous Miss Adena, assisted by her lovely friends from San Francisco, Annie and Frances, took me and Peter Etcetera to The Stinger in Billsburg to see Mink Lungs. We had seen the show 'advertised' on the stairs of the L train (written in chalk: Mink Lungs 4/25 at The Stinger--hey, it worked). We only caught the end of the set, but they packed more into the 10 minutes I saw than many other bands do in 45. The guitarist took his shirt off, and he's a chubby boy, and started dancing around the audience. Of course, the lovely Adena, ever up for a good time, immediately began to boogie with him. Then, he donned a choir robe and began to lip sync to an evangelist's sermon, holding a utility lamp under has face to look demonic and occasionally changing the pitch. I'm sorry to say that I really can't even comment on the rest of the band as this crazy kid was so compelling. I should point out here that a very long time ago I was in a band with Peter Bernard, Rools producer and Goddamn Funnies cartoonist, called Mockingbird Lungs, only I could never remember the name and always called us Heartless Ravens. photo of Peter Etcetera and Melpomene W. by Peter Bernard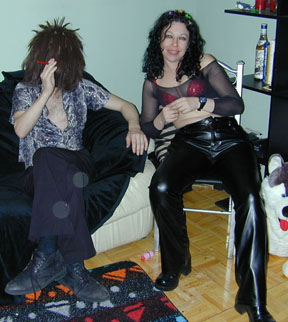 April 28, Dream House. While I waited outside of Roulette for a perpetual latenik, I was accosted by a large man with the intense gaze of a zealot. It was Steve Speer, computer artist extraordinaire, in town for a few days taking a break from fixing up his haunted San Francisco houseboat. He screamed "love and light" at me while I bitched about being made to wait, and dragged me to the Dream House for some bizarre brainwashing and relaxation. The Dream House is an installation of sound frequencies that has been going on for eight years. The big room has a plush carpet and pillows and soft psychedelic lights and magenta colored gel on the windows, but the main feature is the sound: a constant drone that of course changes pitch as you move around the room, or even just move your head while you lay down. The sound is by La Monte Young, and the light and environment by Marian Zazeela. You don't need to know anything about this sort of thing to enjoy yourself at the Dream House, but do be prepared to remove your shoes. The Dream House is 275 Church St, 3 fl, Thurs-Sat, 2PM-Midnight 212.925.8270
Arlene Grocery, 95 Stanton St
The Dream House, 275 Church St
The Knitting Factory, 74 Leonard St, http://knittingfactory.com
Oasis at Chashama, 135 w. 42 St, http://www.chashama.org
Orchard Grill, 196 Orchard Street
Tonic, 107 Norfolk St, http://tonicnyc.com
Void, 16 Mercer Street, http://www.voidltd.com/
Lesion: http://lesionallevil.com
The Liquid Tapedeck: http://thetapedeck.com
Mr. Quintron: http://listen.to/Quintron
Oneida: http://www.jagjaguwar.com/jagjaguwar/oneida/ 4.04
Rools Like Ozzy: http://www.roolslikeozzy.com
Urinetown the Musical: http://www.urinetown.com
upcoming weird events: http://ExtremeNY.com/calendar and don't forget to watch xNYtv, MNN ch 57, every monday night at 11:30 pm