Subdermal
By Melpomene Whitehead

My first time at a Happy Birthday Hideout party I made the mistake of drinking the sangria. I've actually experienced some missing time due to this blunder, but not from alien abduction. I remember spilling some sangria on me, and it stained the white laces holding shut the fly on my white pleather shorts, but not the shorts themselves. I remember doing the bump with Colin. I think I saw some people in spacesuits. I remember Tom, in an unprecedented moment of tenderness, helping me down the stairs. Someone asked if I was ok, and I was able to say I didn't know. I sprawled in the back of Paul's car. I took out my contacts when I got back to Tom's, but this I don't remember. So this time I decided to stick to beer.

Unfortunately, the only beer is spudweiser or heine-cans, so I grab a heiny and try to make my way through the crowded rooms. First thing off, I notice that almost everyone has red construction paper hearts upon, which are written witty epithets, like "Sugar Daddy," "Eat Me," and such, like paste-on valentine Necco candy conversation hearts. And I don't have one.

I'm talking to some guy whose heart says "Brat," when Tom comes over as a "Drama Queen." I laugh and laugh, as just a few short hours before I called him exactly that, when, as our cab wended through Williamsburg on its way to another party, he kept calling out, "Sigh. That's where so-and-so lived." Or, "Sigh. Such-and-such used to live there." Sometimes it was as enigmatic as "Someone I dated used to live there." He seems to have dated so many people that I wonder if we have the same definition. To me, you're not dating unless you have an implied Friday night thing and your tampons are in his medicine cabinet. I ask Tom where he got the heart and he points
towards the other room, says there's some girl there handing them out. I want to be labeled. I feel it's vitally important. Tom's is so appropriate I feel that the heart-girl must have incredible powers of deducing one's personality. But I've just begun explaining to Brat that I was once in an issue of Hate, and it turns out he has a copy of it and he says "Wow! So I'm talking to a celebrity!" and my ego is massaged into submission and that room seems so far away. By the time Brat wanders away, Colin has shown up and I've decided not to be marked. What if I got something stupid, like 'K-Mart Shopper"?
At first I didn't like Love Life. I didn't like the singer's voice. But then I briefly looked away, to see how bad the lineup was for the bathroom, and I thought she was a man! And then I decided I liked her. Anyone that loud and gutteral is aces in my book. Their songs are a bit dirge-like, and I wished they had some faster numbers (not harder. They were plenty hard).
While on line for the bathroom, I noticed that the tiki lamps strung up were little chinese good luck cats, glowing, one paw up... I suddenly missed my little Mungo...I could see him, handing out the paper hearts, chatting with people... he's very good at the meet-and-greet, but there may have been a few too many people. The dogs wandering around seemed to handle it well.
The crowd began dancing in earnest between Love Life and Liminal, and Liminal had no problem keeping people on the dance floor during their beat-driven set. They perform with a powerbook, synths, and a live drummer, but, despite the live drummer, I couldn't help but wish the sound was a little deeper, bassier, heavier in the lower ranges. Love Life had no problem with that, but it was sorely lacking in the Liminal set. I wasn't complaining tho.
The next night was the ABC No Rio/C.O.M.A. benefit at--ta da--ABC No Rio. No standing around and talking, really, socializing was limited to talking to Bonnie Kane (from World of Tomorrow and W.O.O. Revelator, who played the benefit), Scott Prato from World of Tomorrow, Doug Walker from Alien Planetscapes, and some poet who almost got trodden on by a dancer. Kid Lucky did some singing and vocal bass-and-drums with Dean Bowman, Kali Z. Fasteau and Sabir Mateen. Someone sang a riff from Charles
Mingus's Fables of Faubus, which I had just heard on the last segment of Ken Burns's Jazz. It's sick! And ridiculous! My call on that one made me feel tres cool, even tho I wasn't really jamming with the ultra-free jazz. This was followed up by a very uncomfortable but really powerful dance performance by Zack Fuller accompanied by Jonathan Vincent on accordion, and Katt Hernandez on violin, and don't think this was some gypsy polka thing. Then W.O.O. Revelator rocked it. I've seen Bonnie's other band, World of Tomorrow, but I never saw W.O.O. before, and cheez, they're impressive. And loud! Joining Bonnie (who plays sax and flute) is Ray Sage on drums and Chris Forsyth on guitar. After, Doug Walker got out his synth and jammed with Blaise Siwula on sax (sometimes he plays this little tiny one that looks like a toy) and Jeff Arnal.
Right now I'm reading Boy Island by Camden Joy (whose real name is Tom Adelman and you'll see in a minute why I'm telling you this), and this book is infuriating. First off, let's stop declaring this poseur the 'best rock journalist since Lester Bangs." Or, maybe let's continue, for what is a rock journalist anyway except someone who wants to hang around with musicians and pretend to be cool but can't play anything? Writing in a genre that no one reads? In this book, Camden Joy joins a band fronted by David Lowery, from Camper Van Beethoven. It eventually becomes Cracker. Only thing is, Tom Adelman never joined this band, neither did anyone named Camden Joy. This is a fictional book about real people. And while it is interesting conceptually, he doesn't paint these real people in a very flattering light. I wonder what his beef is? I'm not a fan of either Camper Van B. or Cracker, but they seem innocuous enough. Maybe he was in love with one of them? Is mystery, as the Flaming Carrot says. Plus he has a character proclaim that the Buzzcocks were important because they spawned Magazine. Howard Devoto was in the Buzzcocks for like five seconds before he left and Pete Shelley took over (altho Devoto wrote or co-wrote parts of the seminal, as they like to say, Spiral Scratch ep, and he sang "Boredom," which, when you listen to it, I think you'll agree that it's more of a Magazine songs than a Buzzcocks song. Pete Shelley could never get away with saying "Boredom. Boredom. Lassitude."). I know Joy/Adelman will defend this by saying that the character was stupid. I guess that's why he's writing fiction, so that he doesn't have to do any research.
CHASHAMA@135 is hosting free events Mondays through Thursdays through the end of April. I saw some ass-spanking tumbling girls (Lava Love) jumping around to Babe the Blue Ox on the night that I went to see Amy Shapiro, who was dressed as a bat strung up by a bungee cord. That was a Tuesday night show, which is always dance-oriented. Mondays are theatre readings, Wednesdays are video, and Thursday is music. That's where I saw Liquid Tapedeck do a very uncomfortable "Fist Mike," with Math Jokes accosting audience members, albeit tentatively, by grabbing their hands and using said hand as a microphone. I also saw Evan Gallagher do a funny piece that consisted of him setting up his equipment and playing one note. All these shows start at 8pm. Fridays through Sundays is Funbox, from the Faux-Real theatre people, but that's not free, oh, no no no.
Saturday February 17, I went to Here for the Headphone Follies, where performers sing along with vocals only they can hear. You can't make this stuff up. It's fun. You'll have to take my word on this one, but I'm not a fan of the space. A stage, theater seating-- made it seem too academic. Also, we had to wait on a long line, and the handouts we were given were not for the show we were going to. But anyway, the performers wear headphones and sing along with vocals that they haven't heard before. We hear the music, and the performers' vocals. So, sometimes it sounds not like singing. In fact, sometimes it barely sounds like language. They do some running around. It's sort of like retarded karaoke. Then it was off to Collective Unconscious, which I kept calling Gargoyle Mechanique, for Makon, Hall of Worlds, an installation featuring toys from Chinatown, big plastic bags, tanks, and light sculptures by Daniel Green and Alicia Mikles Green, I really liked the giant robot shaped like the dog .It was very friendly, especially considering it was a robot. OK, it wasn't a robot, I was pretending. But before we got to Collective Unconscious, I banged my cheek on a taxi door (no, I wasn't drunk!), and I had to ice it down with liquor.
So, because of the taxi mishap, Sunday brought a black eye, dizziness, and occasional spots and shadows, so I missed Lesion at Arlene Grocery. I really really wanted to go, as they were doing covers from Kiss's Destroyer and Fleetwood Mac's Rumours. Well, I'd
want to go no matter what Lesion was doing--even John Tesh covers. Even a dramatic reading from The Great Gatsby! Luckily for me, they play out alot. Check out www.lesionallevil.com
Wednesday, 2.21, Licky played at Siberia, the bar inside the 50th St. 1 train station. Licky is sort of a meta-punk band, as in they play the same 3 chords, hard and fast, but throw weird stuff into the mix. Like in the middle of one of their songs, they start doing Nine Inch Nail's "Terrible Lie." When I heard Lips Johnson yelling "I think you owe me a great, big apology" I almost spit my beer. And almost all their songs refer to them, Licky. Like "The Licky Theme Song," "Let's Start a Band Called Licky," stuff like that. Even their covers refer to them (Kiss's "Lick It Up"). It's crazy! And the place was filled with moshing girls. There was a pussy pit! Awesome...
2.22: Every Thursday is Radical Anxiety Termination at Subtonic (the basement of Tonic), but first stop was the Open Mouse event hosted by Rhizome at Fun. I Think this was the second one, and I can't say it was entirely successful. The concept is that you can sign up at the Rhizome site (www.rhizome.org) and play video-jock off your laptop. Soundlab affiliated DJs spin. So, while I was there, a DJ played PiL's "Careering" and OMDs "Electricity" while some guy downloaded RealPlayer. And they say there's no content online!
Off to RAT, but since it was snowing so hard I missed O.blaat's first set. Keiko, the O.blaat "schemer" as she calls herself, is now playing a powerbook. No more weird analog sounds! I miss the mysteriousness of her wispy analog noises, but her powerbook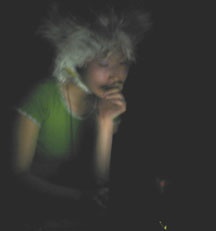 compositions are sweet and complex. This is the second time I've seen her with the laptop and she's getting better and better. Unfortunately, I got too distracted to tape, so I have no footage for my public access show... (xNYtv, Mondays at 11:30 pm, ch 57, MNN...)
ABC No Rio: 156 Rivington St., www.abcnorio.org
Arlene Grocery, 95 Stanton St, www.arlene-grocery.com
Chashama: 135 W 42 St; www.chashama.org
Collective Unconcious, 145 Ludlow Street, www.weird.org
FUN, 130 Madison St.
Happy Birthday Hideout: 338 Flushing Avenue, Brooklyn; 718.855.7248
HERE, 145 6th Ave, www.here.org
Siberia, W 50 St station, downtown 1 train (50th & Broadway)
Tonic, 107 Norfolk St
Upcoming events at http://extremeNY.com/calendar