Subdermal
Well, this has been quite a year for all of us, I know. A lot of us lost our jobs, apartments, people we loved… It's even more difficult for people like us, those who chose the alternate routes in life. How do you deal with big traumas and tragedies? You're always wearing black, you don't send cards or go to funerals, you never wanted a straight job to begin with… it's hard. I have no advice or words of wisdom, except this: stay on the path. You entered Chapel Perilous as soon as you began your quest for knowledge and understanding. Be true, and arm yourself with sympathy, reason, intuition and valor, and you can find your way out of the chapel. (I know! You're saying "But, I'd rather just sing!" Tuff luk.)
Tao Te Ching by Lao Tsu, Translation by Gia Fu Feng and Jane English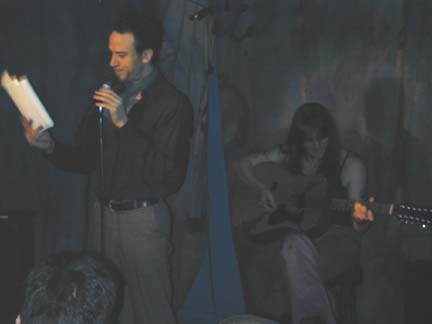 Fifty
Between birth and death,
Three in ten are followers of life,
Three in ten are followers of death,
And men just passing from birth to death also number three in ten.
Why is this so?
Because they live their lives on the gross level.
He who knows how to live can walk abroad
Without fear of rhinoceros or tiger.
He will not be wounded in battle.
For in him rhinoceroses can find no place to thrust their horn,
Tigers no place to use their claws,
And weapons no place to pierce.
Why is this so?
Because he has no place for death to enter.

OK, on to the next.
Lots of terribly good, funny, odd stuff at Faceboyz Open Mike and Rev. Jen's Anti Slam this month. Don Eng, who was proclaimed The Asian Woody Allen by someone, informed us that his
mental diagnosis was "not Chinese." Professor Kiffy Apocope continues to astound, amuse, and offend, with his scholarly deconstruction of jokes. Big Mike has been reading some amazing stories when he's not taking salacious polaroids. He's such a powerful presence with a big bulldozing voice, and sometimes his stories are so tender! Really, you see this guy skulking around the pretty girls and you think one thing, and then he reads and totally blows away all your pre- and mis-conceptions. Girlbomb's (girlbomb.com) standup is sharper than a serpent's tooth, it is, talking about her boyfriend named 'Zac, and not having anyone to whom to address her suicide note. And my dream hunk Curtis Scagnetti--he told me Santa was his nigga because they both live in a very cold place with enslaved midgets! I was like…? Enslaved midgets? Which brings me to Porno Jim, who has been kindly instructing us on better ways to have sex with instructional pornography. So many people to mention… The Sushi Fairy, well, she's like on different plane. When I see her I feel like I'm watching a telecast from another planet. Touching You has been doing new songs every week… Lots of crazy things happen at Surf and C:U--people undress and get spanked, lip sync, read stories… there's a lot of proverbial envelope pushing. This is the place you want to be, really. Faceboyz Open Mike is every Sunday nite, 8 PM, at Surf (172 Allen St, www.surfreality.org). Rev Jen's Anti Slam is every Wednesday at 7:45 at Collective Unconcious (145 Ludlow St, weird.org). For lots of art star gossip, check out the blab section of girlbomb.com
Also at C:U this month was the world premiere of Lord of the Cockrings, written by Rev Jen and starring Faceboy and a cast of, uh, lots. The sold-out gala premiere featured an uproarious pre-show, featuring Purple Organ, who does like a folk-rock-noise-GWAR thing, Big Baby with Shauna Lane and Bex, and a beautiful song by Ms. Lower East Side. Such a vision of loveliness was she that I bought her a drinky-poo after at Barramundi. Lord of the Cockrings is the story of young Scroto Baggins (Faceboy) and his quest for a sacred sex toy. On the way, he meets strange characters and creatures, and removes a bottle from his ass. I especially loved Rev Jen's wise wizard narration.
I didn't bother writing about what Hornbuckle did at any of the open mikes this month, because he had a whole show at Bar B (Allen St) and I'll write about that instead. He was kind enough to perform most of my favorite songs, like Valentine's Day, Astral Projection, Things About Which, Wanda Tinasky, and Manchester, a Morrissey tribute song. How could I not love a guy who wrote a song in the Smiths' style? And writes odes to Robert Coover? You can actually hear some of these (as performed by his late band PopCanon, who will be reuniting in February for ONE NITE ONLY, and not in New York either. Oh well. Will there be a web broadcast?) at http://web.popcanon.com. Hornbuckle rocks, he's cuter than a canadian ice weasel (hey, that's a compliment coming from me--I love weasels) and he's a funny and strange boy. He'll be playing at Sidewalk sometime in February (2/19 at 8pm to be exact--get there early and indulge in 2fer1 drinks!!), and you can almost always see him do something at the open mikes.
Finally there is a new Grindhouse A-Go-Go production at Surf Reality (172 Allen St.): Velvet Rope Smackdown, every sat at midnight beginning January 12. Written by and starring Jonny McGovern and Martin Beauchamp, VRS also features Bex, Emilie Blythe, Michele Carlo, Jen Clement, Shauna Lane, David McKeal, Bruce Smolanoff, and Tom Tenney. Adults only, kids! Call 212.560.7269 for info (69, awww.) or visit http://www.grindhouse.com. Quesque dillyo con this one? Well, break-dancing orphans are about to be ousted from their community center by Lizzie Grubman (that's groob-MON) who wishes to turn the space into a yuppified nightclub. Who can stop her? Only the Gay Pimp, teaming up with Blaxplotation superstar diva Chocolate Puddin' and the bipolar babe from Bayonne, Mariah Carey. Hijinx ensue, with sexy results, I'm sure. Check http://grindhouse.com/ for more info, and http://www.gaypimp.com/ for more jizz on Jonny. Surely this production will be a must-see, just like previous Grindhouse shows The Wrong Fag to Fuck With (or, The Wrong Fag with Which to Fuck) and The Dirty Matrix. Be the first on your block to witness the insanity that is Grindhouse.
Shit, did I do anything else this month? Yes, I saw God, The Band (http://www.godtheband.com/) at Red Warehouse. They rocked out prog-rock style in their prom clothes. I felt so junior high! Except I wasn't stoned. They're very theatrical and, uh, weird. Go to the website. Once you see that, you're going to have to go see them play. They've been described as a cross between the Beatles and Zappa, but I think they're more a genetic hybrid of Devo and Mr. Bungle. Science gone too far! Also went to see The Drive-by Truckers at Brownies. They delighted the audience with songs about Alabama (the state and the band), and they performed a touching number entitled 18 Wheels of Love. David Cross was in attendance, and we annoyed him by telling him he looked like Chris Weingarden. Ha! He does, but really, no one needs to hear that. Apparently Weingarden, aka Whiney G, had an on-going, uh, project, that involved him asking comedians who knew David Cross how much he looked like David Cross. Janeane Garofalo only gave him a 3, but Mark McKinney gave him an 8. I asked Cross how much I looked like him on a scale of 1 to 10, and he awarded me with a high score of 8. Which is odd, as I look nothing like David Cross.
Please buy and read Waiting for My Cats to Die: A Morbid Memoir. Stacy Horn, the founder of Echonyc, the seminal New York electronic community, writes beautifully about the things that scare us the most: death and loneliness. And sick cats! http://www.echonyc.com/~horn/
Oh, and I pity all those who missed the Surf Reality players at the Knitting Factory's New Year's Day thingee. Not only did you miss Carmen Mofungo singing about mofungo (and chuletas!) and Hornbuckle and Girlbomb doing Total Eclipse of the Heart, but you missed Bex's best breast puppet show ever! The breasts sang, and the girl breast informed us that "Girls with issues are hot!" Ain't it da trooth! And let's not forget Shauna Lane's interpretative dance to trust. I have no idea what it meant, but she's so cute! Hornbuckle confessed to me that he really loves Shauna's dance performances.
I hope this paper is out by Jan 11, so you can go check out Te'DeVan Kurzweil's Naked Comedy at the St. Marks Theater (94 St. Marks Place). Show starts at 10:30, tickets are $15, and there will be lots and lots of nudity. Te'DeVan is known to some as the guy who sets his penis on fire. He's also really tall and sexy and you probably actually want to see him naked, as opposed to like, that homeless guy on the corner, or Harvey Keitel. Audience participation is encouraged. woohoo!
past subdermals at snevil.com/subdermal
go snevil go at www.snevil.com
email me at mungo181@yahoo.com