Melpomene Whitehead; photos by Pruiga Phur
I've learned a lot this summer. I've learned that Florida is not as hot as New York City, yet everyone has air-conditioning (i was told, however, that the poor people only have window units). I learned that New York University researchers think that there may be a correlation between the use of condoms (or abstinence) and depression in women (New York University, Archives of Sexual Behavior, May 2002; source: New York Post, 5-20-02), implying that sperm is an anti-depressant. And at Boston's Hebrew Rehabilitation Center researchers found that the grain in beer (which men consume far more than women) must be a major reason why men suffer less osteoporosis (July 2002; source: TheDenverChannel.com [American Journal of Clinical Nutrition], 7-4-02).  So what does this mean? That we all need to get drunk and have unprotected sex? Hurray! How about a new drink? Guiness and jizz. We'll call it the Scum Bucket. Personally, I think you need to be careful with the unprotected sex business. Get that anti-depressive sperm from someone you know really well (news stories courtesy of News Of the Weird, online at http://www.newsoftheweird.com )
July 9, Mata Amritanandamayi
For some unknown reason, I decided that I did not know enough about Hinduism. So, I got a book out of the library, The Idiot's Guide to Hinduism. They have Idiot Guides for almost everything. In fact, I think one is coming out next month about my cat Poly. Towards the middle of the book I came across a small section on living saints, one of whom was Mata Amritanandamayi, or Ammachi for short, the hugging saint. I recalled hearing about Amma on Louis Theroux's Weird Weekend. Some of you may remember Theroux as the tall british guy from Michael Moore's TV Nation. On this particular episode of Weird Weekend, Theroux went to India in search of… what? He sort of suggested that he was looking for inner peace. Besides meeting with some western cult members, and some Hare Krshnas, he also met with some of Amma's followers, who brought him to a huge event, a darshan (audience with a sage), where Amma was to hug all of the thousands of faithful who came. Theroux reported feeling strangely peaceful after his hug, although he had been skeptical throughout the whole episode. Oddly enough, the day I read this passage about Amma in the Idiot's Guide, and remembered what I'd seen on tv, I came across a listing that said Amma was in town, giving darshan at Columbia University. Since it was free, air-conditioned, conveniently located, and did I say free and air-conditioned? we decided to check it out. The young man and I wandered confused around the lobby for a bit, while lovely people in white wafted around in a generally hapless way. It seems that the darshan tickets had been misplaced, so there would be a delay in handing them out, but we were free to come and go as we liked, and Amma would be hugging until there was no one left to hug. We were lured by the air-conditioning and the possibility of inner peace and decided to stick around. We listened to some lectures on the nature of Amma's miracles and charity work, and then some more words from Amma herself about peace, love, and harmony. When we finally got our darshan tickets we estimated that we'd be waiting until about 3 am. Obviously, Amma has much more stamina than we do. So, we left before getting hugged by Amma. We hugged each other instead. You can get more Amma-fo at ammachi.org, and you can get tapes and books and adorable little Kali dolls at mothersbooks.org
July 11, Deep Dish Cabaret
I went to my first (and second) Deep Dish Cabaret this summer, so now I can heartily recommend it to all y'all. It was fun, the space was interesting and comfortable, but the crowd was full of pretty people who read TimeOut New York and shop at Banana Republic. I sort of felt like I was back in high school, the freaky goth chick standing in the corner while the normal folk drink Coronas and smoke American Spirit. The first night I went I saw Ethan Lipton, Don McCloskey, Wali Collins, David Hornbuckle, Tuppy the Band and Joanna Parson. All of it was entertaining and funny, and some of it, like feminist folk singer Joanna Parson, was fantastic! I hate folk singers, but I love funny women, and Joanna Parson sings about the joys of getting with your cousins. Deep Dish Cabaret is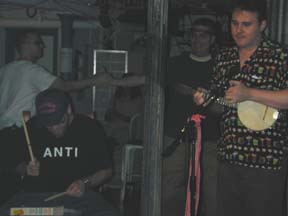 presented by Ghent Magazine (www.ghentmag.com), a very odd publication of letters. Really. Letters, as in correspondence. Some fiction, some found. I dig that. It's so voyeuristic! Speaking of voyeurism, you can listen to some Hornbuckle classics at mp3.com! Visit http://artists.mp3s.com/artists/210/eurotoaster.html and artists.mp3s.com/artists/413/m_david_hornbuckle.html (that's m_david_hornbuckle)
Then I went to DDC again in August and saw my first Scotty the Blue Bunny performance, which made me want to move to Chelsea and become a drag queen. I mean that in a good way. Also in August, Hornbuckle performed with a genuine trash drummer, as in he was drumming on a garbage can, an eager young man who goes by the nom Poisson D'Avril. So enticing was the music that drunken men began to dance around poles, like manic maenads at a baccanalia. Without the rending of garments and ripping off of heads and blood-drinking, of course. Was it the drumming or the banjo-uke that drove these youths into a frenzy?
July 12, Viggo Mortensen and Lawrence Krauser at Housing Works Used Book Café and Rockstarred and Feathered at the Happy Birthday Hideaway
We went to the reading to get out of the oppressive heat and hear Lawrence Krauser, but we were among the few who were unfamiliar with the sparse poetry of Viggo Mortensen. The bookstore was packed with hundreds of beautiful young Jewel-like women in halter tops and bell bottoms and braids, all scribbling secrets on each other's palms. There was also a large contingent of non-American tourists to see Mr. Mortensen. Did I say see? I meant hear. Or did I? After hearing Viggo read five lines and then hear the crowd erupt into thunderous applause and girly shrieks, I began to be a little suspicious. The poems were OK, but where, except in a Martin Amis short story, have we heard about poetry groupies? When he was finished, someone yelled for him to re-read the poems! It was insane. I'd heard his name before, but I couldn't remember where. When I got home the next day I went online and discovered that these were not intellectuals at all, but average star-struck people. It turns out The Vig is an actor, and recently appeared in The Lord of the Rings. Eww! No matter, Krauser was awesome, frantically and maniacally reading all the parts from his play The Horrible Child. He's horrible, that child, just horrible. I knew Krauser was an excellent writer—I adored his book Lemon—but I did not know that he was such a good actor. Probably better than that Viggo guy. You can read more of Krauser's witty and bizarre prose at mcsweeneys.net
Later that evening we attended Rockstarred and Feathered, a crazy event presented by Nonsense NYC and Precision Accidents. This alien cabaret featured an entire out-cast of freaks, hustlers, and deliriously demented show people, ripped from the barstools of San Francisco's weird, reviled, and almost-out-of-business Odeon Bar (www.odeonbar.com). Chicken John -- founder of Cirkus Redickuless, sideman to GG  Allin, and host of last fall's Lost Vegas -- brought 25 San Francisco  performers to the HBH. And really, what a perfect space for them. A grey cavernous loft that gets converted to a kitschy party place every few weeks, where Bklyn
hipsters and aging punk rockers cavort and gambol with art stars, dogs, and a cat. We got to see a highly entertaining lecture by The Rev. Dr. Howland Owll on monsters, with a glorious slideshow. It made me very nostalgic for the old New York Fortean Society, wherein writer John Keel (author of The Mothman Prophecies), along with many other famous paranormal investigators, would tell us ghost stories on Saturday afternoons.  Dr. H. Owll does a humorous, fortean-slanted lecture each week at the Odeon Bar. Chicken John was able to pull off his One-man Banned act without a repeat of a previous performance, a meltdown involving a hit of E, a bet with a babe, and five shots of tequila. He did a quite delightful updated and wacky version of The Land of The Lost theme (you remember: Marshall, Will and Holly/On a routine expedition…). Highlight of the night for me and pretty much everyone else with a healthy libido was Mark Growden, an extraordinarily sexy accordion player performing melancholy and sultry gypsy songs. I've never seen a hunky accordion player in black leather before, but now that Hornbuckle has brought his flashy squeezebox up from Gainesville perhaps I can request a private performance from him. Is the accordion the new electric guitar? Growden plays the banjo also, causing me to wonder if he was perhaps Hornbuckle's separated-at-birth Siamese twin. Oddly enough, on the way back from Florida, we discovered how close the Happy Birthday Hideaway is to Hornbuckle's apartment. It's probably closer than the long long walk from the Classon St. G station, but it's through some sketchy areas. But we did discover a closer stop, and we will be forwarding that info to Jeff Stark, the moderator of the Nonsense list (nonsensenyc.com), the fabulous weekly events elist for which all should sign up, at least all who read this column, because I'm assuming you're awesome and not some retarded frat boy from Canton, OH.
July 24, Reverend Jen's Birthday Extravaganza
Wow. That elf-girl is full of surprises. Besides participating in a wrestling match for her birthday, she also introduced us all to her new baby, Rev. Jen Jr, aka JJ, an adorable Chihuahua. JJ cavorted with Choo-choo, her older Chihuahua pal (and mentor?) before the wrestling began. Little Debbie snacks and liquor aroused the audience into a sugar and alcohol frenzy, and by the time the first match began, Collective:Unconscious was packed to the rafters with sweaty, drunk, screaming people. But I mean that in a good way. Nick Zedd provided color commentary during the matches, and although his narrative had almost nothing to do with what was going on, it was still highly entertaining. Those who arrived early got a special treat—a Reverend Jen Birthday hat, decorated with a provocative photo of the enticing elf. See, sometimes it's more fashionable to be early.
Each Monday in August, The Lesion Experience at Arlene Grocery
I never tire of seeing Lesion. Dr. Hurtz, Piss Promise, Mr. Pod and Venison manage to pack a Warped Tour full of entertainment into an hour. This summer, many of us were lucky enough to attend the Lesion Lifestyle Experience at the smoky and crowded Arlene Grocery. It was a multi-media extravaganza that cost only $1 and was worth ten times the price. So I spent the other $9 on
beer, of course, to strengthen my bones. Every Monday in August, we were treated to a spectacular short film along with an evil-packed set by everyone's favorite satantic rock band, Lesion. Truly, the anticipation of the Lesion Lifestyle Experience was one of the few reasons I wanted to come back to savage New York City and not stay behind in the civilized and air-conditioned Gainesville. I missed The Pod Knot, the film starring the delectable Mr. Pod, but I was lucky to catch Rare Tongue, a tender and frightening psychodrama exploring the troubled mind of mute drummer Venison. This short featured an excellent drug-induced animation sequence by Kirsten Ulve (She has a great website: www.kirstenulve.com) that was both delightful and disgusting. I also viewed the twisted "Death Takes a Piss,"  wherein Piss smokes Hitler's penis and wagers with Death.

After August 12th's Experience we stayed on for Punk Rock/Metal Karaoke, which featured an amazing rendition of Zeppelin's "Rock and Roll" by host Owen Comaskey's son! He looked to be about 11 or 12, and I was expecting to be cringing, but the kid was fantastic! Who knew Owen could produce such progeny? Perhaps we need to get a LES sperm bank going for all the women who want to have artistically talented babies. Additionally, it will help cure your depression, and, with the amount of beer consumed by most LES men, it'll probably strengthen your bones.
Liquid Tapedeck, Simple Pop Songs CD
Seventy songs in 80 minutes, and each one a gem in its own right, the Liquid Tapedeck's Simple Pop Songs is the must-have fall accessory.  Check the website, and hopefully there wll be info there about how to obtain this jewel (thetapedeck.com). I imagine you think I'm raving about this CD because I like these guys. I do like these guys, but my enthusiasm for this disk goes way beyond that. Simple Pop Songs is not the same old thing. On my trip down to Florida I spent alot of time listening to the radio. Song after song of predictable riffs, over-emotive vocals, and non-sensical lyrics made me cringe. Granted, I agree that it must be difficult to write a rock song that doesn't string together verbal and musical cliches. But is too much to expect? No. It's not. I don't have high expectations of rock bands at all, but I get pissed off when bands like the Red Hot Chili Peppers keep doing "Under the Bridge" over and over again, but call it "Californication," or "By the Way." The Tapedeck are too scrupulous to fall prey to the trap of the mundane. Simple Pop Songs is like a bowlful of rare minerals, all different and surprising and beautiful. The disk contains instant hits like the delightfully sing-along-able "Crack Whore," the bittersweet "Lou Reed's Cock," the classic "Let's Light Joan Rivers on Fire," and my fave "Death Is the Answer." My sentiments exactly. The music is much lusher and fuller than you'd expect from a duo (technically, there are four members, but one is in prison, and the other is difficult to get a hold of), and the exquisitely brief songs will leave you panting for more. Don't leave me this way, 'Deck! My heart is full of love and desire for you! I'm so happy that the 'Deck will be playing Arlene Grocery on September 23! And possibly as a three-piece!
August 17, Love Life at the Right Bank
I saw Love Life at the HBH last summer, but I made the mistake of drinking the sangria and had some sort of strange reaction that made me exceedingly drunk. So all I could really remember was that when I first saw them take the stage I thought, "oh, they got themselves a pretty girl singer, I bet they suck," and then I looked away, and then this intense, booming growling beast began to sing, and I looked towards the stage, and it was the same girl. No way! Even in whatever state I was in, I recognized that this woman was a real rock star. Whiny G, Hornbuckle, and I made the long long trek to the Right Bank, where the bartenders are remarkably rude and the sleezy regulars harass anyone who doesn't look like them. Love Life were playing upstairs, but we still had to deal with the bar people and clientele when we needed water after sweating excessively after a few minutes in the small, not-cool-enough room. But enough complaining. After Katrina Ford began her primal growling over a creepy mélange of slurring drums, beat-keeping bass and almost baroque-sounding organ and guitar, I totally forgot about my intense discomfort. I've been reading reviews of this band, and everyone keeps saying the G word (goth), but Love Life is so much more complex than the average 4/4 (or 0/0) darkwave vampyre coterie. In fact, I think that it's totally possible that none of the songs in Love Life's set that night were in 4/4. And goth rarely rocks like Love Life do.  Check out http://www.templeoflovelife.com/ for more info. And if you have a record player, or even if you don't, you want to buy the band's heart-shaped single. "We're all about the love," Katrina says.

Sadly, the evening ended on a down note when the abysmal On Air Library took the stage. They spent a very long time setting up, and then treated us to poorly programmed drum beats, predictable samples, uninspired swirly wet guitar sounds and bad vocals. We stayed 10 minutes after they began playing and heard them tackle a total of three chords—two chords in the first song, and a third added to the first two for the second song. Wow! They should have their FCC license AND library cards taken away.
BBQ Hootenanny, Sundays, Hank's Saloon
We took the night off from Surf's open mike and moseyed on down to Hank's (46 3rd Ave @ Atlantic, take almost any train to Atlantic Avenue, or take the A, C or G to Hoyt/Schimmerhorn) for the free BBQ and country music. We had no idea that Daria of the Kings County Queens was going to be behind the bar, serving $2 Pabst Blue Ribbon to the adorable mixed crowd (half-hipster, half
neighborhood people). Lawdy, we had fun. I didn't eat, being a vegetable (oddly enough, so was the guy who'd been roped into BBQ'ing that night), but Hornbuckle had enough snaussages and burgers for both of us, and the Pooh Bear (as we've jokingly begun to call PBR) was flowing freely from frigid cans. The band did covers of all our fave songs, including "Truck Driving Man"!!! And (hehe) "Rocky Top." At one point, they had eight people in the band, including a banjo player, a fiddle player, and Hornbuckle doing backup vocals. Yeeha! Hank's provides lots of opportunities for women like me--depressed and trying to increase their bone density. The men are skinny and tatted, the beer is cheap, and the music is so sad! Or funny. Or knee-slapping.
melpomene whitehead is the caretaker of snevil.com email her at mel@snevil.com