"It's not how many trolls you have, it's how much you love them."
A Visit to The Lower East Side Troll Museum
<![if !supportEmptyParas]> <![endif]>
Melpomene Whitehead, photos by Pruiga Phur
<![if !supportEmptyParas]> <![endif]>
Ovid, in the Art of Love, said "Art lies in concealing art." He could have been writing about St. Reverend Jen's Lower East Side Troll Museum, a loving homage to the art and culture of the troll doll, the ubiquitous pot-bellied poppets. They don't actually bring good luck, as Jen can attest, but a visit to the Troll Museum is sure to bring a smile to even the most glum and suicidal (to which I can attest). The LES Troll Museum houses fucking trolls, pregnant trolls, drunk trolls. They're just like us, except small, plastic, and sexless. And every visitor gets a personal tour from the curator herself, St. Reverend Jen. On a recent Saturday afternoon, Reverend Jen took me, art star musician Hornbuckle, and his baffled brother from Memphis on a spin around the museum, pontificating on the importance of the troll doll.
<![if !supportEmptyParas]> <![endif]>
Jen describes the creation of the Troll Museum. "I was always trying as a child to get people to visit me, and pay money to do so. So I had my own magazine called Jen magazine. I used to give out flyers to people at school that said, "See the Jen Magazine building!" It was my house! I was always trying to get people to come over but failing in my entrepreneurial pursuits. The museum came about when Paper magazine asked a bunch of people, including me and Faceboy, to come up with new ideas for the millennium. They wanted maybe four or five ideas. But never to be outdone, Faceboy and I came up with like 2000 ideas. At first we were going to take shrooms, but instead we got an 18-pack of Budwiser. At some point I said, 'Troll museum! I should open a Troll museum in the next millennium!' A lot of the ideas came to fruition, like the Mr. Lower East Side Pageant.
<![if !supportEmptyParas]> <![endif]>
"With the Troll Museum, I wanted to create a psychedelic nirvana. Most museums are pompous. They're mausoleums, and people look at the art for two seconds and they expect to be effected by it. I decided that I would do the opposite of that. The museum would be completely interactive, you can't get away from the subject matter, Zeppelin is playing, there's a Troll video on the TV, people are drinking beer, my roommate is wandering through in his underwear—the opposite of pretentiousness."
<![if !supportEmptyParas]> <![endif]>
On the tour, Jen lovingly accounts the stories behind each troll acquisition. "This is one of my newest ones, the Punk Rock troll, designed by Shaolin… This troll with the really long hair was given to me by my old roommate Becky Donahue. Here is a troll bingo marker, and it really is good luck. Lorne (Newman, comedian and Jen's roommate) won $75 at the Gay and Lesbian community center playing bingo with it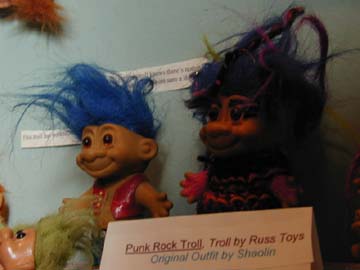 .
<![if !supportEmptyParas]> <![endif]>
"This troll had its hair cut off by my sister's boyfriend. I looked on in terror as he assaulted my troll with sewing scissors. I don't know if you saw at the museum benefit, that evil wench that I wrestled ripped the hair off my astronaut troll! And I tried to put his astronaut helmet back on… This troll has committed a fashion faux-pas, wearing a vest with no shirt. You can always count on troll for lack of fashion. (Pointing to a giant troll) This troll was bought for me during an anti-slam. (Peter) Gerber came running in and said 'dude! There's a giant troll for sale at the subway!' I said, 'I gotta go!' I just left the show, and I went to 2nd Ave, but I guess I went to the wrong stop, because it was at Delancey. I got it later."
<![if !supportEmptyParas]> <![endif]>
(pointing to the Armani Exhibit trolls)   "I was horrified to learn that the Guggenheim was having an Armani Exhibit. I thought, 'What the fuck could they be showing?' It was like being in Bloomingdale's-- nice suits with labels telling you what year they were made. It had an unbelievably superficial video of models walking in Armani… it was so stupid! So I parodied it with Armani at the Troll Museum, made possible by Armani. We had champale before the exhibition."
<![if !supportEmptyParas]> <![endif]>
(regarding the famous Troll Shanty) "I used to have a job as an internet surfer, 8 hours a day surfing the web. What I did mostly is look at things on ebay. I only purchased two things, because I think it's cheating. I feel the trolls should come to you at flea markets. You should have a story for every single troll you have, which I do, which is why the troll museum tour can take upwards of six hours. The interesting thing is that I used to go on there just to look at stuff and there were all these troll shantys! It's not like Barbie, Barbie has a dream house, the trolls get a shanty. Trolls are poor and Irish. But trolls are also indefinable. They're not just a toy or a statue, they transcend all categories, and they continue to be produced in ever-increasingly fickle markets."
<![if !supportEmptyParas]> <![endif]>
The Troll Museum is also decorated with exquisite original painting by Reverend Jen, including one that explains the different troll types. Showing me a new, in the package, Troll set from PlayMates, she states, "They've obviously bought out Norfin, I can tell by the faces. The Norfins have different facial expressions, which is why a lot of people say Norfin is the best. But I love all trolls."
<![if !supportEmptyParas]> <![endif]>
What are Jen's future plans for the museum? "I'd like to expand. The museum has really struck a nerve with people. I'm looking into non-profit status. That's what the benefit was for. I just got all my trolls back from Collective (from the benefit and wrestling match—see photos
on page XX in this issue) and they were soaked in beer and had cheese smeared on their faces… I think I'm going to have a Troll Museum smackdown once a month. Everyone just loves wrestling. People were screaming against me. I heard someone say 'Kick that elf's ass!'."
<![if !supportEmptyParas]> <![endif]>
And just how many trolls are in the museum? "People are always asking 'How many do you have?' I don't fucking know! Is that enough for you? I had one reporter come and count them. It was so annoying, I wanted to start moving them around and making it really hard for her to count. Troll collectors are a very odd breed. I was wearing one of my troll t-shirts and this girl came up to me and said 'Oh! I like to collect trolls!' and later I was telling my sister that I wanted to say, 'Oh yeah? How many do you have? I have a museum-full.'."
<![if !supportEmptyParas]> <![endif]>
The Reverend is currently working on obtaining tax exempt status. You can become a member of the board of directors (along with the Backstreet Boys) by donating a measly $250. Saint Reverend Jen's Troll Museum is located on Orchard Street. Call 212-560-7235 to set up an appointment. You can also see highlights Jen's Troll collection in the window of the Slipper Room, located at Stanton St, on the corner of Orchard.